What Qualities Make a Good Electrician
If you are an electrician, then you should ask the question, how to be a successful electrician? Electricians should be talented, decision-makers, active, and knowledgeable.
They should be hard working because their jobs are tough and required hard and smart work.
I'm working as an electrical engineer for more than te13  years, and I worked with many good successful electricians.
In this article I listed qualities that the most successful electricians should have, These qualities answer the question of how to be a good electrician.
Let's list them, and then discuss some of them in detail.
Willingness
Mental & Physical Aptitude
Precise Communication Skills
Ready for Sense of Adventure
Take responsibility for your own mistakes.
Time Management
Team Cooperator
Customer Service
Some important tech. skills
Fast troubleshooting solving.
Electrical calculations awareness.
Electrical wiring diagrams reading.
Control circuits implementation and problem-solving.
Safety using electrical tools.
Never give up when searching for a solution for electrical issues.
Let's discuss some of these items in detail.
Willingness
As we know practice makes one perfect, that's why training plays a vital role for every electrician.
A successful electrician should always be ready to get knowledge and learn about different new electrical systems. They must seek knowledge and be able to learn from training.
As electricians work with powerful and many times dangerous tools. The only way to work safely is by getting the knowledge and complete guidance and training about using the tools safely.
Mental & Physical Aptitude
Most of the time electricians are used in working with electricity. Electricians should have great interest in the subjects like math, physics, etc as electricity is a branch of physics and a large number of mathematical techniques are applicable to it.
With the best mental attitude toward learning the subjects, the electricians should also have a hand-to-eye coordination working system.
They should be absolutely able to distinguish between wires according to their colors because different colors of wires carry different currents in the electrical works. If they are not able to do so they may face dangerous results.
Precise Communication Skills
Whether an electrician works independently or with the organization, they must have good and precise communication skills.
Whenever this question is asked that "what qualities make a good electrician", it will be necessary to mention good communication as a main skill or the main quality of a good electrician.
It is a very important skill because it can make or break the career of an electrician.
Electricians always deal with situations where they have to tell about the main problem they identified through their analysis.
If they are not able to tell their analysis in a precise manner they will never be able to become a successful electrician.
Ready for Sense of Adventure
While doing this difficult risky job many times the electricians have to do work on heights of hundreds of feet.
If now the question is asked what qualities make a good electrician in that difficult situation the answer will be that "the good electrician is always ready to do such difficult works and look at them as the adventures of their lives."
They will feel happy and excited about doing such difficult work because they never had climbed such heights in their life before choosing this profession. Nobody has experienced such difficult work before in their life.
Time Management
In all types of work, time plays an important role. A good electrician should always be on time or on time.
Late completion of work without considering the time is not the quality of a successful electrician.
They must show their best attention in their work and complete the given task on time.
Time management skill is hard to learn for all electricians. Once they learned this skill they become able to complete the tasks on time. This skill proved very valuable for them.
Team Cooperator                                                                                      
Many times the electricians are working together as a team. They may work with their team or with other teams working on the same contracts.
It is extremely important that the electrician works in a good way with other workers. His behavior should be good and his language should be precise. Working in a good cooperative manner is the best strategy to answer the question of how to be a successful electrician.
Safety-first mindset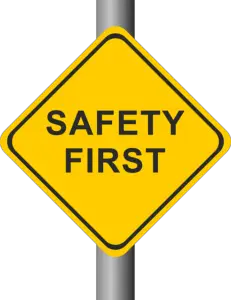 A large number of electricians do not care about safety while doing their job. Safety includes both types i.e. the safety of the electrician as well as the safety of the working tools and system under operation.
In the case of safety, the proficiency of an electrician does not matters because working safely is something extra that can save from a large number of losses. Keeping the safety­-first mindset is a key quality of a good electrician.
I highly recommend visiting my safety site safetyfrenzy for more specific electrical safety articles.
Customer Service
If the electricians are connected to a company, they make the name of their company through their skills.
They are independent while working with the company. Sometimes they are working with local jobs or on customer job sites.
At this stage, they should keep this thing in their mind that they have to go with their surroundings. They are not independent and have to be respectful of the timing of their surroundings to be a good electrician.
Electrical calculations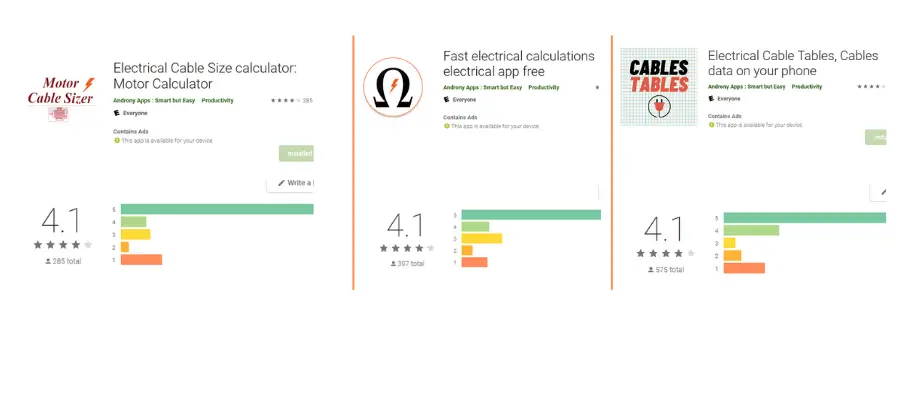 Electrical calculations are almost in all electrical fields. Doing these calculations fast is important to solve the main issue faster.
Using smartphone electrical apps is helpful. I use a package of electrical android applications in my work, I made all these apps my self.
I highly recommend three apps for you. I created these apps myself to help me, and they are on the google play store for free:
Cables Tables: this app is amazing, It has the most common tables of cables like current capacity, voltage drop, derating factors, and more
Fast electrical calculator. This one has many useful calculators. You will need it for sure in your work.
Motor calculator. This is a simple and quick electrical motor current calculator and cable selector for the motor.
For more electrical information subscribe to my channel 
Discover more great content by subscribing to My channel
Looking to stay ahead of the game in the world of electrical engineering? Subscribe to my YouTube channel and gain access to exclusive content you won't find anywhere else!
Don't leave empty-handed! Subscribe now.