Before we dive in to ODP vs TEFC motor, we need first to know more about each type. But for a quick comparison between ODP and TEFC, I will list the differences in the table below.
ODP vs TEFC Motor Table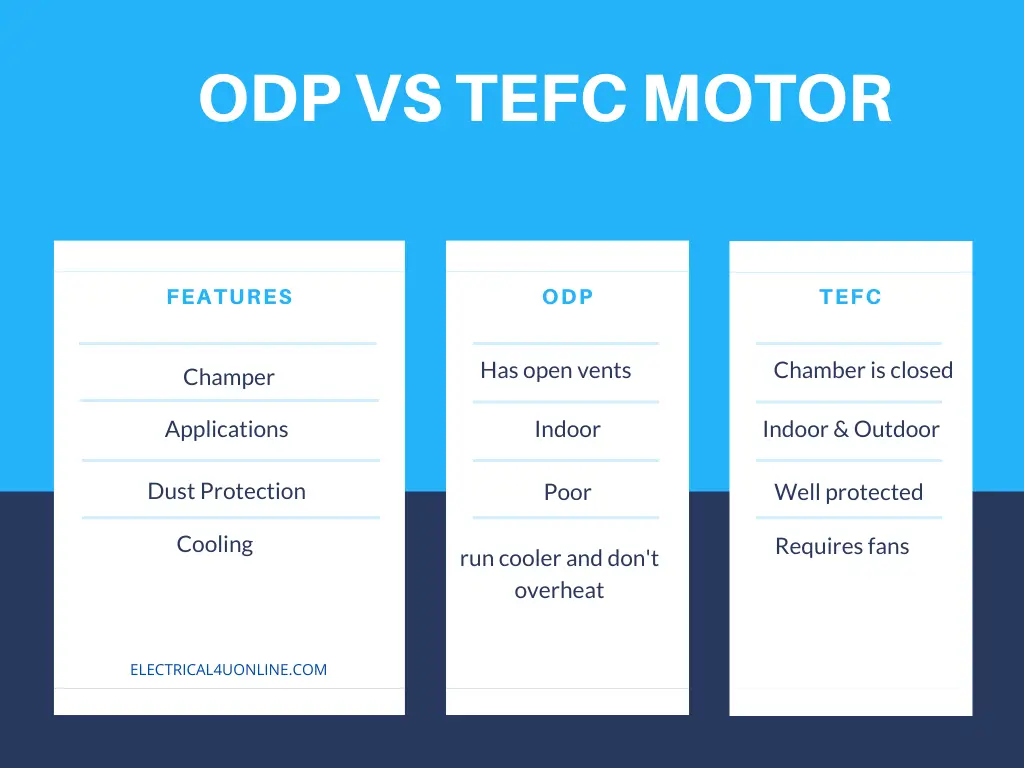 What Does ODP Motor Standing for?
ODP "Open Drip Proof"  where the motor chamber has open vents, so air can flow directly over the winding and cool it down. No fans are needed in this type of motors. ODP design is suitable for motors that run cooler and don't overheat.
When electrical current flows through windings of an electrical motor it produces heat while operating. Due to this heat the motor temperature rises, This rise of temperature could cause the motor to be burnt. Several motor cooling methods are used to reduce this temperature rise.
ODP "Open Drip Proof motors" is one of the used cooling methods, where the air can flow through motor windings  as the motor chamber has open vents.
Disadvantage of ODP Motors
In ODP motors the protection against dust and humidity is poor, So the dust and humidity can directly enter into the motor, making a kind of dirty winding and bearing.
Some motors manufacturers make laminated winding and sealed bearings to overcome the dust and airborne contaminants issues.
Can I use ODP outdoors?
So, from the above, its clear that ODP motors are sufficient for indoor industrial applications only. If you use ODP motor outdoors moisture and dirt will cause motor overheating, rapid corrosion and failure. This failure may be  temperature rise due to bad cooling efficiency, and some times it may be short circuit inside the motor.

In my work I face many damaged electric motors and generators due to dirt and moisture. I work  in a desert. In winter we face sandy storms, moisture and heavy rains.
If a motor or a generator, for any reason, has openings, like the ODP motors, the fine sands enters into the windings and accumulates on it. Moisture and sand causes short circuit between the winding. The result is a completely damaged motor or generator.
This is why we should pay a great attention to the motor IP and work environment.
I have written a detailed article about motor burn out reasons, you can find it here.
ODP motor applications
ODP motors are suitable for all indoor applications. You can find open drip proof motors at the following applications:

Indoors electric transformer cooling fans.
Home appliances, such as washing machines and air fans.
Air compressors for indoors use only.
Water treatment facilities.
All indoor industrial applications where the working environment is dry and clean.
The open drip proof enclosure is vented at its back end to allow cooling air to enter the winding. So, the open drip proof motor applications should be wet clean locations.
What is ODP motor IP rating
Most ODP motors are designed with IP23. This IP rating is of course for indoors. The digit 2 means the motor is well protected against 12mm solid parts and human fingers. While the second IP digit means the motor is protected against water drops falling up to 60 degree from the vertical.
For more details read my article IP ratings, here.
Can Open Drip-proof (ODP) motors be used in industrial areas?
Open drip-proof motors aren't very reliable to operate in the industrial sector. Industrial Sector is a place where cleanliness is not the top priority. But if the industry is related to the production of products that demand cleanliness around them, cleanliness is assured only in the place where the product is stored, and packed.
The motors and belts aren't something to keep clean and their ambient is usually dirty. Open drip-proof motors are not closed. They have proper air ducts through them to ensure effective airflow. If the motors aren't being used the insects use these kinds of places for living inside them.
The ambient of the open drip-proof motors must be clean so that no dust or fluids of hazardous kind enter the motor. So, one may buy and use the Open Drip-proof motor because it has a lower first cost than other motors but using the motor needs so much maintenance that the maintenance cost is very high.
Example of Open Drip-proof motors?
The home appliances have ODP motor, such as:
Compressor to be used inside the house.
Ceiling fans.
Washing Machines.
Air coolers use Open Drip-proof Motors.
As the ambiance of the home appliances is far better than that of the industrial equipment, Open Drip Motors are reliable. Also, the economic factors are also better for the Open Drip motors than other motors when used inside the home.
Also, in some industrial areas where the environment is clean and dry, open drip-proof motors are used. If the motor is closed and drip-proofed, it can be even used for the water pumps.
Why do Open Drip-proof motors fail?
The most common reason that makes Open drip-proof motors fail is that, their poor protection against dust and humidity. As obvious from its name i.e., open drip, it is open to air flow and also does not have any fan. So, anything can enter the motor and windings. It reduces the motor efficiency.
Dust clogs in the motor windings. If it is placed outside, rainwater shorts the windings which may result in a fatal accident.
Why do drip-proof motors cost more than a regular motor?
Drip-proof motors do not cost more than any regular motor. Drip-proof motors are inexpensive and readily available. The first cost of a drip-proof motor is lesser than other motors.
But if the motor is used in an exposed environment, the dust and water cause faults in the circuitry that leads to either getting the motor repaired or installing a new one. So, the maintenance cost of open drip motors is more than the maintenance cost of a regular motor.
Are drip proof motors more efficient than regular motors?
Open Drip motors are more efficient than the regular motors. When place in a dry condition and ambiance is clean, open drip motors works perfectly.
As the motor has a proper air flow passage through itself, it does not overheat. Overheating decreases the efficiency of the system. The open drip motor does not overheat and work efficiently.
You can read my detailed article about, Electric motors temperature rise, causes and solutions.
What does TEFC motor mean?
Totally enclosed fan cooled motor also is represented as TEFC,  is a motor with its chamber closed off,  which requires an external fan to cool it down. Cooling the motor of this type requires fans to drive air on the motor body.
As one of the main disadvantages of ODP motors is that they are not sufficient for the outdoors. TEFC motors are the solution of this issue. The completely enclosed TEFC motor is well protected from the outside environment, dust and humidity.
TEFC motor and working outdoors
In the opposite of ODP motors the TEFC motors are sufficient for outdoors or wet location applications. The enclosure prevents air from out side to enter the motor. In this type of motors a fan blows outside air to cool the motor through its outside body.
This type of motors is well designed to work outsides, because the enclosed body of totally enclosed fan cooled electrical motor doesn't allow any air exchange between the inside and outside.
Can TEFC motors be used in hazardous locations?
Not all TEFC motors are labled as EX motors for hazardous areas use. It must be stated on the motor nameplate clearly the EX classification of the motor to be used in hazardous locations.
TEFC doesn't tell us anything about motor EX protection degree. We are talking about two different terms. i.e cooling method of the motor and the explosion proof degree.
Which motor type is better ODP or TEFC?
Depending on the application and location of the motor you can choose the best one for you. If your location is outdoors or wet, then TEFC motor will be the best choice. While ODP motor is suitable only for indoor applications.
 The point is, you should choose the motor type carefully. If you choose the wrong motor you may charge your organization more money. If you choose ODP for wet locations, it may get damaged. And in case of choosing TEFC motor for indoors dry location, it may be more expensive than ODP one.
Why do electrical motors need cooling?
Motors like all other electric devices and equipment need temperature rise control, because the temperature rise causes the winding insulation to get damaged and then a short circuit may happen causing a complete motor damage. So we need to cool the motor down, This is where several methods of cooling are used. 
Electrical motors produce heat while operating. This heat is a result of current passing through windings, friction, losses and ambient temperature. This heat causes the motor temperature to rise. If this rise keeps up it will cause the motor winding insulation to decrease and then to electrical short-circuited and burn out. 
So, one of the most important things we consider when choosing a motor is the location temperature and the motor insulation class. As I told you, I work in the desert, this is why we choose motors with ambient temperature range of 5°C mini  and 55°C max. And insulation class of F.
For more details about motor insulation class read my other article here.
Join me on YouTube
I will be so happy if you subscribe my electrical channel.
Install my 100% free electrical android apps