Electrical motors are almost used in all commercial and industrial applications. When motors are used they must be controlled.
When an industrial application uses more than one electrical motor,  its desirable to control one or more of them from one location.
This location contains all motor control and protection devices like MCB's, contactors, timers, relays, and MCCB's.
The purpose is to make the operation process easy and effective.
What Does Motor Control Center (MCC) mean?
A motor control center is a combination of motor starters, protection devices and control devices in one place, usually metallic enclosure, to centralize the control of one or more motor.
This motor control center usually is installed in the operation or control room.
For instance, in the organization I work for ,"Oil & Gas company", motor control center has control panels of more than 15 motors.
They are all located in a building where operators can control the motors as required.
On the other hand, our maintenance team can perform preventive maintenance easily and effectively. 
Why is It Important to Have (MCC)?
MCC is a great time, cost and efforts saver for maintenance and operators teams, below are some of MCCs advantages:
It centralize all or some motors control and operation in one place.

Makes it easier to perform preventive maintenance for motor control panels and components.
Cost effectiveness. Mcc needs one power source. We usually use one main bus-bar to feed all of them.
MCCs need less wiring efforts and cost. As all MMCs have all or most of motors of the organization in one place.
MCCs provide higher faults detection system. As they are all in the same location, so its easy for one operator to regularly check all of them and detect any possible fault early.
Controlling each motor from individual places rather than MCC, makes it hard to make regular routine preventive maintenance.
As I mentioned above, the organization that I work for has an MCC. This MCC makes it super easy for us as maintenance team to make the preventive maintenance tasks.
We simply go to the control building and get current and voltage measurements, check all contactors and control devices. All this is in the same location. A great time saving, isn't it?
I can imagine the great effort of doing such maintenance tasks if the motor control of each one is in a separate location.
This motor control center also makes it easy for operating staff to start, stop or isolate any of these motors.
MCC panel Components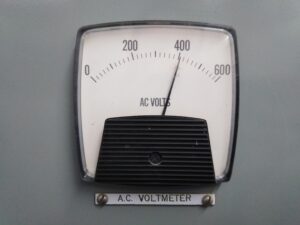 A motor control center consists of one or more vertical metallic cabinet sections. With one power source in shape of bus-bar.
Each motor controller should has all components the motor needs to be protected and operated. MCC panel components examples:
Bus bar. Are usually copper bars to distribute power for all components. The use of bus bar in MCCs reduces the miss of using several power cables for each motor control panel.
Potential transformers. In some cases the panel components have different operating voltage, less than the bus bar voltage. In this case using a potential transformer is a reasonable solution.
Current transformers. CTs are used for protection and current measurement.
Voltage, current and frequency gauges. Its essential to watch these readings all the time and record the readings each hour. This way you can detect any fault early.
Soft starters to overcome starting current of the motors.
Circuit breakers , MCBs and MCCBs. These are essential for short circuit protection and power isolation purposes.
Contactorsand Relays to control the starting of the motors as required.
Indicator lamps. Working, overload and power indicator lamps are the fast way to check faults and power visually. It helps the operator to understand the fault and report it to the maintenance team.
Timers to control the operation sequence.
MCCs design depends on the application, the components of MCCs are selected to provide the required degree of the operation, protection and maintenance.
MCC Specifications
In the design and selection phase of MCC, design engineers specify the components of the panel.
Each MCC has its own requirements according to the application the motor is working on.
Some common components are in almost all applications. These are :
Motor starter.
Over load relay
Circuit breaker and fusible switch.
Start and stop buttons.
Indicator lamps for each phase.
In one MCC, you may find each motor controller has its own control and protections devices as the design require.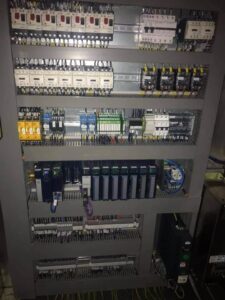 This panel in the image, has many control devices, these devices control more than one load. It has the following control components:
Circuit breakers.
Contactors.
Soilde State relays (SSR).
Control relays.
PLC controllers.
How to set motor control center specifications to purchase?
When you are responsible for setting specifications of an MCC, you should make it clear and complete to be easy for purchasing team.
The main data of any MCC should include the following:
Operating voltage.
Phases number.
Current of each load.
Frequency.
Protection levels for each load.
Maximum suggested dimensions. To be suitable for your control room.
IP rating of the enclosures.
Power cables sizes, to make sure that the panel has suitable openings for cables entrance.
Short circuit ratings.
Make sure to check the following data with the motor control center supplier:
As built drawing.
Testing certificates.
All data sheets for all components.
Manufacturer of the MCC should be the Manufacturer of the major components.
Installation information.
The manufacturer of the components should be in the industry for at least 5 years.
The motor control center should has spare control panels for the most important loads.
If the organization has an inventory, make sure that the components of the MCC are the same in the inventory.
Spare parts list.
Usually MCC's are set in rooms which need to be cooled and fire protected. Cooling is required because of the control panels components usually produce heat in normal conditions.
Motor Control Center Manufacturers
This industry, I mean MCC manufacturing, is very large to list all manufacturers. But let's list some of the leading companies.
Allen-Bradley automation 
WEG Industries.
ABB Automation company.
Siemens Automation.
Eaton Corporation.
What is the difference between MCC and PCC panels?
MCCs are used to control many motors from one centralized location. While PCC (power control center) are voltage and power system supervision and monitoring method. 
Power Control Center – PCC – is used for power source control and distribution. They have the following components:
Circuit breakers.
Monitoring devices.
Control devices.
The design of PCC should ensure the power system required breaking capacities, IP protection and temperature rise.
It should also be designed for easy incoming & outgoing cable termination and connection. This needs enough spacing and size.
What is the difference between switchgear and MCC?
MCCs are used to control and protect motors from one place, and have low voltage ratings. They provide power to motors, not to general loads.
While, switchgears are higher in voltage, and have protection and control devices and feed power to transformers, MCCs bus bars and other loads.
Motor control centers are typically down stream of switchgear. In some cases switchgear feed switchboard and then MCCs are fed from switchboard.
Switchgear has cells, each cell feed a certain set of loads, not only one motor. If a fault occurred the cell will isolate power and keep all other loads energized.
Another important use of these cells, is the power isolation for maintenance purposes.
What is double front MCC panel?
Double front MCC panel or back to back, is a panel with front and rear motor control sections.
It provides shorter length but harder access for maintenance. The use of both front and rear directions shorten the bus bar and the overall length of the MCC panel.
Unfortunately, the double front MCC panel maintenance may be harder than a single front ones.
Join me on YouTube
I have a YouTube channel about electrical engineering. I will be so happy if you join it.
Discover more great content by subscribing to My channel
Looking to stay ahead of the game in the world of electrical engineering? Subscribe to my YouTube channel and gain access to exclusive content you won't find anywhere else!
Don't leave empty-handed! Subscribe now.
Install my 100% free electrical android app on Google Play Store