Transformers have active parts and auxiliary parts, One of the most important auxiliary parts is Bushings. In this article, I will answer important questions about bushings. Let's get started.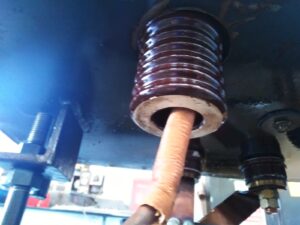 Transformer Bushing Principle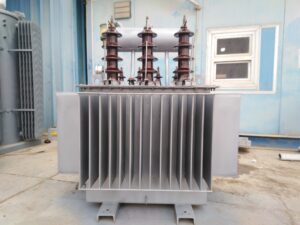 The bushing principle is straightforward, It keeps the high and low-voltage wires insulated from the transformer body.
To prevent corona discharge and short circuits with other live wires bushings are made of insulation material and designed to handle the voltage level of the transformer's low and high voltage sides.
Bushing passes the conductor through itself saving it from any kind of faults that may occur.
Can Bushings Cause Transformer Oil Leakage?
Yes, in some cases, bushings can contribute to transformer oil leakage. Transformer bushings are designed to provide electrical insulation and mechanical support to the conductors passing through the transformer tank.
They typically have seals and gaskets to prevent the escape of oil. However, over time, due to factors such as aging, mechanical stress, or manufacturing defects, the seals on the bushings may degrade or develop leaks.
For more details about Transformer Oil Leakage, read my other article here.
Difference Between Insulators And Bushings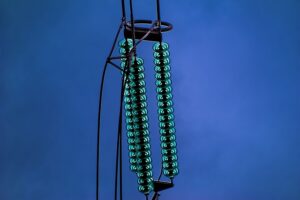 | | |
| --- | --- |
| Insulators | Bushings |
| Insulators are made of porcelain, glass, and other composite materials | Bushings are also insulators made of composite materials that can withstand a certain level of voltage and current. |
| Insulators can be hollow or filled. | Bushings are hollow to pass the wires. |
| Insulators can be used in many equipment. | Bushings are used in Transformer and shunt reactor circuit breakers. |
| Insulators can be made of rubber also. | Bushings can not be made out of rubber |
| Insulators can't be filled with dielectric. | Di-electric is mandatory in insulators. |
| Insulators are used in daily life electrical equipment to protect the equipment's circuitry or wiring. | Bushings can't be used in daily life electrical equipment. |
How Many Bushings Should A Transformer Have?
Transformer Bushings Material And Classifications?
Discover more great content by subscribing to My channel
Looking to stay ahead of the game in the world of electrical engineering? Subscribe to my YouTube channel and gain access to exclusive content you won't find anywhere else!
Don't leave empty-handed! Subscribe now.